Businesses expanding to Southeast Asia have various reasons to do so. Startups, scale-ups, and enterprise companies alike expand their horizons to harness the benefits that come with international growth. To name a few: customer base growth, greater scale and efficiency development, talent access, portfolio diversification, and also mergers & acquisitions.
However, breaking into a foreign market can be a difficult task, especially with strict rules and regulations occurring in Southeast Asia's fast-growing countries. The main challenge for companies scaling in Southeast Asia is to choose the right market entry strategy to better serve their purpose and needs.
To discuss this, we have invited George Lam, Business Development Advisor at Asia Market Entry, to our webinar series moderated by our COO, Viktor Kyosev.
Key talking points:
Here are the insights from the discussion:
Expanding to Southeast Asia: A Vast Market Entry Opportunity
Southeast Asia is a strategic position to have market entry expansion, geographically speaking. Being located at the center of a dynamic APAC region would give Southeast Asia-based companies the market advantage, especially for moving forward into India, China, Taiwan, Japan, Korea, Australia, and New Zealand. Some key advantages of Southeast Asia:
An economic powerhouse with combined GDP valued at USD $3 trillion dollars, the 5th largest economy in the world
Youthful workforce and customer base with a population approaching 700 million and median age below 30
Not a monolithic market with 1000 different languages spoken
ASEAN Economic Community (AEC) economic cooperation is a key pillar that underpins ASEAN's success and cohesion
The highlighted industries in Southeast Asia
Southeast Asia Expansion: Various Means of Purpose
Expansion means a lot of different things to different companies. It could mean company incorporation, first hire, new partnership, new office, new marketing message, or a new pipeline in a new market. Regardless, the main aim for the expansion is to help the business grow.
Southeast Asia Expansion Methods: Opportunities and Obstacles
There is more than one method to scaling in Southeast Asia, with some being less known than the others. Understanding the options, and considering both the opportunities and obstacles of each method, will help ease the incorporation process. The methods are:
Fly-in, Fly-out (medium risk – medium cost)
Opportunities:
Better for the early stages of geo expansion
Can be used for scoping the market and building pipeline
May involve regular trips
Obstacles:
Can be taxing physically due to long haul flights
Limited flexibility on meeting times and in-person presence
May have time zone-based communication lag
Relocation and Incorporation (low risk – medium cost)
Opportunities:
Easier done in some countries with better task rate, less red tape, and low corruption
Better for legal and compliance consideration
Allows easier business transactions with incorporated status
Obstacles:
Incorporation cost varies by country
Requires legal support
Has variable costs for marketing, administration, and employee relocation
Incorporate & Hire Locally (low risk – medium cost)
Opportunities:
Profitable if managed correctly
Better in understanding language, culture, and way of doing business
Networking / relationship advantage which is important in Southeast Asia
Better business commitment pointed by local employees
Obstacles:
Lengthy legal and banking processes
Requires familiarization with tax and regulations
Needs careful hiring for the first employees
Do Nothing (medium risk – low cost)
Opportunities:
Allows time to prioritize growth in the home market
Obstacles:
Proving through partnering (low risk – medium cost)
Opportunities:
In-market partners to grow channel sales and build pipelines
Useful in countries with language barriers
Better business commitment pointed by in-market representation
Can start quickly and prove the market at lower risk
Expanding to Southeast Asia Faster with Trade Agencies
Trade agencies are one of the well-kept secrets of market entry expansion. As government-funded bodies, they can't be seen marketing themselves with taxpayers money. Hence, some people might not be aware of what they can do.
However, the KPI of these trade agencies is actually to promote growth of companies in their home market and support those scaling in Southeast Asia region. Most trade agencies have two roles: one to attract investment into the market, another to export commodities into new markets. The latter part is especially favorable to expanding companies.
Each trade agency is different: some are better than the others, some charge for their services, while some bigger agencies have branches across many countries. What expanding companies can do is simply ask them how they can help with the expansion. Here are some things that trade agencies can do:
Expansion funding:
Local introduction
Marketing events
Market report access
Lead generation
Business matching
Trade missions
Incorporation advisory
Association introductions
Networking events
Co-marketing
Contract signing PR
How COVID-19 Affects the Southeast Asia Expansion Options
COVID-19 has increased the number of factors that companies need to consider moving forward. Two things that are most affected are the decline of long-haul trips and large events .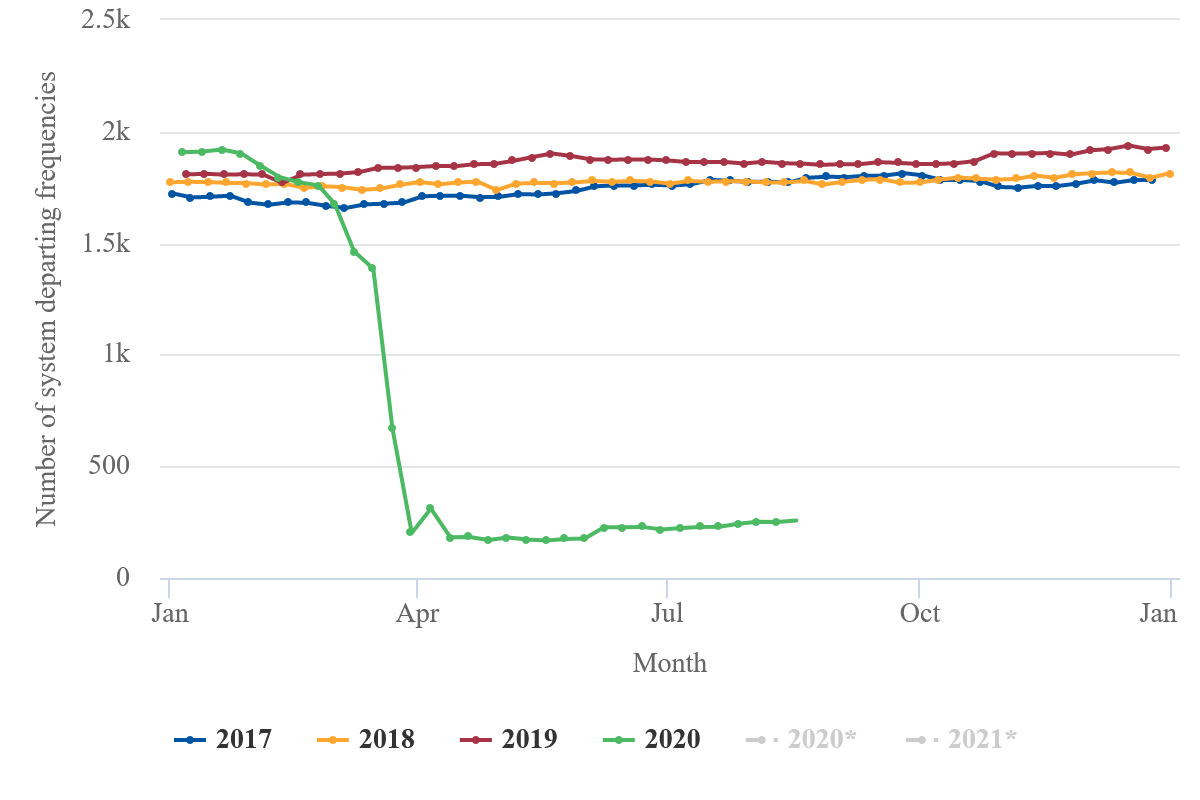 Singapore Airlines: weekly international departing frequencies, 2017-2020
Source: CAPA and OAG
However, such limitations have sparked new areas of innovation, new ways of connection, and also digital transformation and adoption in some companies. This could be an essential time to have partners in the new region to represent the business, as well as to outsource workers to cater for business needs without having to relocate employees or flying in-an-out.
Tips for Expanding to Southeast Asia
Don't consider SEA a single market
Approach it as multiple markets which differ significantly based on language, culture, technology maturity, and spending power.
Show commitment and physical presence
Buyers in Southeast Asia expect a local presence or at minimum a locally established partnership. It is mandatory to have a local distributor in place in many countries for a Request for Proposal (RFP).
Having patience is crucial
Plan for at least two years to create footprints as businesses may be a bit more risk-averse in this COVID-19 climate. Actively educating prospecting clients with your business value propositions and the pain points that your business can solve.
Be aware of price sensitivity
Different countries may have varying levels of price sensitivity. Sometimes there is a need to tweak global pricing models as Southeast Asian countries have strong bargaining cultures.
Watch the full webinar session here:
Since April, at Greenhouse we've have been working closely with our network of service providers and partners across Southeast Asia to launch a series of webinars on topics like:
Adaptation to COVID-19
Business opportunities
Fast-growth markets
Market entry strategy
Opportunities in emerging markets
Venture Capital
Reach out to us for any questions about this session!
All experts who have shared on this panel are actually partners of Greenhouse, and their company profiles are listed on our platform. To see a comprehensive profile of each company and approach them, click here